LE MONDE | 13.03.07 | 13h59 • Mis à jour le 13.03.07 | 13h59

utorisé à la mise sur le marché en France et en Europe, le MON 863, un maïs transgénique conçu par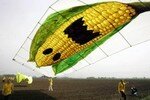 Monsanto, est depuis plus de deux ans au centre d'une polémique sur son innocuité (Le Monde du 23 avril 2004). Ces débats pourraient reprendre après la publication, mardi 13 mars, dans la revue Archives of Environmental Contamination and Toxicology, d'une étude suggérant une toxicité de cet organisme génétiquement modifié (OGM) pour le foie et les reins.
Selon ces travaux, la consommation de maïs MON 863 perturbe plus ou moins fortement, chez le rat, de nombreux paramètres biologiques : poids des reins, poids du foie, taux de réticulocytes (jeunes globules rouges), de triglycérides, etc. La chimie urinaire est également modifiée, avec des réductions de sodium et de phosphore excrété pouvant aller jusqu'à 35 %. Les effets varient selon le sexe des animaux. "Chez la femelle, on observe une augmentation des graisses et du sucre dans le sang, une augmentation du poids du corps et du poids du foie par rapport au poids du corps, le tout associé à une plus grande sensibilité hépatique, dit M. Séralini, principal auteur de cette étude et par ailleurs président du Comité de recherche et d'information indépendantes sur le génie génétique (Criigen). Chez le mâle, c'est le contraire, avec une chute du poids du corps et des reins."
Les auteurs de ces travaux ont utilisé les données tirées d'une expérience commanditée par Monsanto, qui a porté sur l'étude de 400 rats pendant 90 jours. Le traitement statistique appliqué à ces données par les experts de la firme agrochimique avait été publié, en août 2005, par Food and Chemical Toxicology. Ces travaux avaient bien mis en évidence des variations significatives de paramètres biologiques entre les animaux nourris au maïs MON 863 et ceux nourris avec son isogène - la même variété végétale, mais non modifiée génétiquement.
Les chercheurs de Monsanto avaient pour leur part conclu que ces écarts entraient dans le cadre de la variabilité naturelle des paramètres mesurés. Les effets produits par l'OGM n'avaient ainsi pas été considérés comme pathologiques. Quant à la "variabilité naturelle", elle avait été établie en mesurant les mêmes séries de données sur des rats nourris avec d'autres variétés de maïs non OGM, aux vertus nutritives différentes du maïs MON 863 et de son isogène.
Les données expérimentales brutes - plus d'un millier de pages - ont été tenues confidentielles par la firme agrochimique jusqu'à ce que Greenpeace en obtienne la publicité au printemps 2005, devant la cour d'appel de Münster (Allemagne).
Le Criigen a ainsi pu les examiner en détail et leur appliquer un nouveau traitement statistique. Celui-ci a notamment consisté, selon M. Séralini, à extraire des données brutes les effets les plus significatifs spécifiquement imputables à l'absorption de l'OGM.
"Sur les 58 paramètres mesurés par Monsanto, précise le chercheur, tous ceux qui sont altérés concernent le fonctionnement des reins ou du foie." "En outre, Monsanto avait considéré que, puisque les mâles et les femelles réagissaient différemment, il n'y avait pas matière à inquiétude, poursuit M. Séralini. Or le foie, par exemple, est un organe qui réagit différemment en fonction du sexe." De même, le fait que la réponse biologique mesurée ne soit pas toujours en adéquation avec la dose d'OGM reçue avait été interprété par les experts du semencier comme la preuve que le maïs transgénique testé n'était pas en cause. Un principe que conteste M. Séralini : "Lorsque les perturbations sont hormonales, par exemple, l'effet peut ne pas être proportionnel à la dose", dit-il.
Le toxicologue Gérard Pascal, membre, comme M. Séralini, de la Commission du génie biomoléculaire, juge erronées certaines conclusions du Criigen. "Je récuse l'analyse des courbes de poids des animaux, menée sans tenir compte de leur alimentation, dit M. Pascal. Mais je suis d'accord sur le fait que les réponses biologiques peuvent varier entre mâles et femelles et sur le principe qu'on ne doit comparer les effets d'un maïs OGM qu'avec son isogène, sans tenir compte des effets produits par d'autres variétés de maïs conventionnel."
Selon M. Pascal, l'inadéquation entre dose d'OGM reçue et effets constatés sur les paramètres hépatiques disqualifie les conclusions de toxicité pour le foie. "Des différences significatives au niveau du poids des reins" et "les variations de sodium, de phosphore et de potassium urinaire" évoquent bien, elles, un effet rénal. "Mais, rappelle M. Pascal, la CGB avait poussé, à ma demande, les investigations sur les reins et n'avait trouvé en définitive aucune preuve de toxicité" (Le Monde du 15 décembre 2004). "Reste les variations des taux de réticulocytes et d'éosinophiles (globules blancs), ajoute M. Pascal. Cela, je ne sais pas l'interpréter, mais ce sont des paramètres qui bougent beaucoup dans les expérimentations." Pour M. Pascal, les éléments apportés par le Criigen ne sont pas de nature à remettre en cause les avis favorables délivrés au MON 863. "Il ne s'agit là que d'une interprétation personnelle", ajoute le toxicologue.
Les travaux du Criigen ont été financés par Carrefour et Greenpeace, mais, justifie M. Séralini, "il n'existe aujourd'hui malheureusement pas de budgets publics pour mener ce genre de travaux". Situation d'autant plus dommageable que, selon M. Séralini, "il faudrait refaire toute l'étude toxicologique en tenant des dosages hormonaux" et, surtout, poursuivre les tests bien au-delà de 90 jours, et sur d'autres espèces que le rat, pour pouvoir trancher.
Stéphane Foucart
Article paru dans l'édition du 14.03.07.

Retour au Blog